INTERNATIONAL WELLNESS & REHABILITATION PARK (IWARP)
Current Health Status in Cyprus
Current hospital capacity of Cyprus is 3000 beds, 1500 public, 1500 private.
The occupancy rate for public hospitals is 140%.
The occupancy rate for private hospitals is 90%.
Healthcare reform in the process.
NHS recently introduced.
Introduction
In collaboration with GHSN, IPC Healthcare is working with the government of Cyprus to design, develop & operate an integrated & comprehensive medical complex on a nearly 1 million sqm plot of land near Larnaca to serve the local needs of Cypriots in the vicinity & extend its offering to the whole island & international market.
IWARP will consist of Centers of Excellence (CoE - specialized centers) operating in compliance with international standards and best practices in collaboration with U.S. operators.
VISION
Develop THE premier medical complex on the island, serving as a regional & possibly global destination for health, wellness & education developed at a world-class level and serving the region as a beacon for education & referrals.
MISSION
Our mission is to create a global destination & referral beacon for health, wellness and develop world-class medical calibres to serve the region.
TARGET POPULATION
Cyprus, Greece, Mediterranean, EU, Eastern Europe, Middle East Africa, Russia, Ukraine
PROJECT DESCRIPTION
The International Medical City in Cyprus is intended to serve the following initiatives:-
State of the Art Patient Care providing the Highest quality of education and standard of care worldwide
Education and Training according to U.S. standards
U.S. Education Certificates
Partnership with U.S. Hospital and University Operators
Solid medical tourism program and patient referrals
Long term Sustainable Solutions
The ONLY Healthcare and Wellness Complex in Cyprus with multiple Centers of Excellence & Specialized treatment Centers
Accredited by U.S. and intl standards
Training & Simulation Center
Medical System "Hub & Spoke" for future nation-wide clinics
Hospitality accommodation (Hotels) & Housing Complex
Commercial & retail complex
Cancer Institute

Heart Institute
Diabetes Institute
Transplant Institute
Training & Simulation

Neuroscience & Stroke Institute

Rehabilitation

Wellness & Day Care Center

Level 1 Trauma Center
Orthopedic & Sports Medicine
MEDICAL TOURISM IN CYPRUS
Key advantages of Cyprus as a Medical Tourism destination:
Human capital and personal contact.
Modern and well-equipped hospital and clinics.
Very high standard of hygiene, patient safety & security.
A number of hospitals have managed to gain international accreditation while some others are in the process of doing so. Confidentiality.
Language – English is widely spoken on the island.
Ideal weather conditions for post-treatment recuperation.
All Cypriot doctors have studied & trained abroad.
Quality - Value for money.
No waiting lists.
A rich history and a vibrant culture, providing endless options for companions.
Over 300 days of sunshine.
Low level of pollution.
Cypriot traditional hospitality.
Respect for all cultures and religions.
Schools for nursing, public health, hospital management & health administration.
Training & Simulation Center.
Research Center.
International Conference Center.
Shared Diagnostic Center.
Level 1 trauma center according to U.S. standards with helipad.
200 OPC's (MOB).
Housing Complex for working staff, teachers & students
Community Center & Commercial Complex with > 200 retail outlets.
Hotel & Hospitality services.
Assisted living accommodation units.
INCLUDING TELEMEDICINE & ROBOTICS

Robots & telecommunication stations connecting hospital physicians with specialists throughout Cyprus and around the world in real-time.

Compatible with Electronic Medical Records System.

State-of-the-art diagnostic and modular hospital systems
Senior level staffing from the U.S

Senior administrators.
Senior physicians and surgeons.
Senior level nursing staff.

Cypriot health professionals integrated into staffing from the beginning
U.S. based training systems and programs
U.S. standards and protocols
U.S. training certification
Partnerships with U.S. universities
Visiting professors and SMEs
Medical Education will include:
Nursing School

Hospital Management Programs supporting biotechnology, healthcare analytics & informatics, healthcare IT & health insurance.

Accredited according to U.S. and international standards.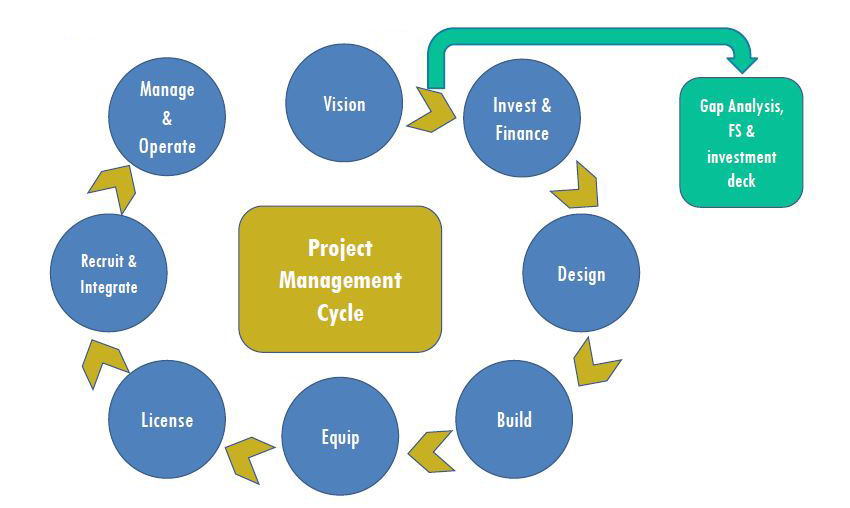 HEALTHCARE PLANNING SERVICES
Our healthcare planning services focus on providing support in the very early phases of planning during which an organization is determining the need and feasibility of selected healthcare services. IPC Healthcare's objective in this phase is to assist in meeting the community's needs by helping determine a gap analysis, the appropriate size & services required.

IPC Healthcare has been consulted for many turn key hospital development projects throughout the project life cycle (Vision - Invest & Funding - Design - Build - Equip - Licensing – Recruit & Integrate - Manage & Operate). This is further to conducting due diligence for many hospitals to improve their profitability, therefore transforming near to bankrupt hospitals to highly profitable healthcare operations through eliminating unnecessary redundancies then undertaking interim management to operate these hospitals during the change management & transformation process.
Assisting organizations in defining their vision first then developing a strategy or direction and allocating their resources to achieve their objectives, then, together, develop a meticulous plan for implementing the agreed-upon strategy.
2
Feasibility Study and Business Planning
Once the ultimate vision is refined and the consensus is reached, we assist our clients in completing a feasibility study and business plan based on defining the target market, determining realistic use rates, and projecting the market share. Once these steps are completed, the detailed business plan can be developed.
Optimizing operations to meet utilization goals, our process involves conducting a detailed assessment, defining recommended improvements based on best practices and developing a detailed action plan for implementation.
We believe that facility planning is a natural extension of the strategic planning process completed in the first phase of planning. We utilize an operations-based approach to deliver safe and efficient care.
5
Site and Facility Master Planning
Often completed in conjunction with an architectural firm, this activity includes developing a site utilization plan, preparing an organized plan for developing facilities on the site and assembling a detailed phasing plan.
Developing a detailed operational plan for proposed departments and documenting the proposed optimal characteristics or operational systems (e.g., the scope of services, hours of operation, workload volumes, staffing, operational systems, functional relationships, design considerations).
Based on the functional program, this step involves developing a room-by-room space listing documenting the quantity of each type of room, the recommended size and any special requirements.
8
Equipment Planning & Biomedical Life Cycle Management
This service is for projects that need equipment assessment, which we handle using surveys of existing equipment to evaluate their reuse potential and identifying new equipment requirements. We also facilitate procurement, acquisition, delivery, installation, calibration, PPM's & quality management.
9
Information Technology Planning
Because information technology is becoming an increasingly important component of healthcare delivery planning; we assist clients with identifying needs, selecting vendors, overseeing the implementation and validating the complete and proper installation.
10
Pre-Opening Planning and Commissioning
These IPC Healthcare services support clients in preparing for the opening of a new or renovated facility. Typically, services begin one to two years before the scheduled opening depending on the size of the facility. In this phase, significant investment is made in careful planning to ensure flawless mastery in patient care delivery.
In this crucial phase, the organizational blueprint for the facility is developed. This includes the organizational policies and procedures as well as each department's individual operating plan, which is the comes from a team of IPC Healthcare specialized professionals contributing to their expertise to complete the operating plan.
Begins approximately three to six months prior to the opening, IPC Healthcare's commissioning phase is the coordination of all activities related to the medical facility's activation and occupancy. These activities include final cleaning, placement of all furniture and equipment, staff hiring and training, simulations and mock audits & drills, acquiring the necessary permits, licenses and testing of emergency and safety procedures.
This is when the hospital services are initiated and open to the public through a comprehensive value-driven PR awareness campaign. Significant efforts are invested to address issues that may arise so that care is delivered seamlessly to patients.